We have our first 2020 Kawasaki Teryx KRX 1000 driving impression. We spent about three hours putting the Teryx KRX 1000 through its paces at the Kawasaki dealer introduction in Palm Springs, California.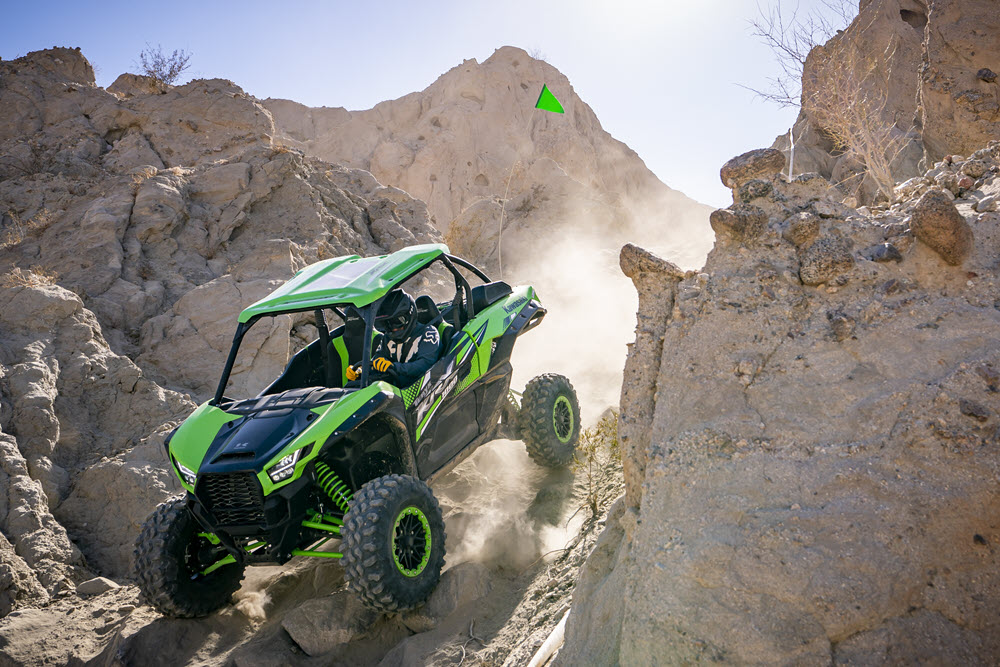 Photos Courtesy of Octipi Media
Before we hop into our evaluation story, we have a quick history lesson. Kawasaki entered the Utility UTV market way back in 1998 with the introduction of the MULE and the line continues to be a popular choice for farm and utility use. In 2008, Kawasaki introduced the first Teryx 750 that aimed at more recreational use than the Mule and although the Teryx has undergone several updates, it has not been a true option for pure sport UTV enthusiasts. For 2020, that changes with the introduction of the Teryx KRX1000. The KRX1000 is a true sport UTV that can be considered among the other high-performance options from Polaris, Can-Am, Yamaha and Honda.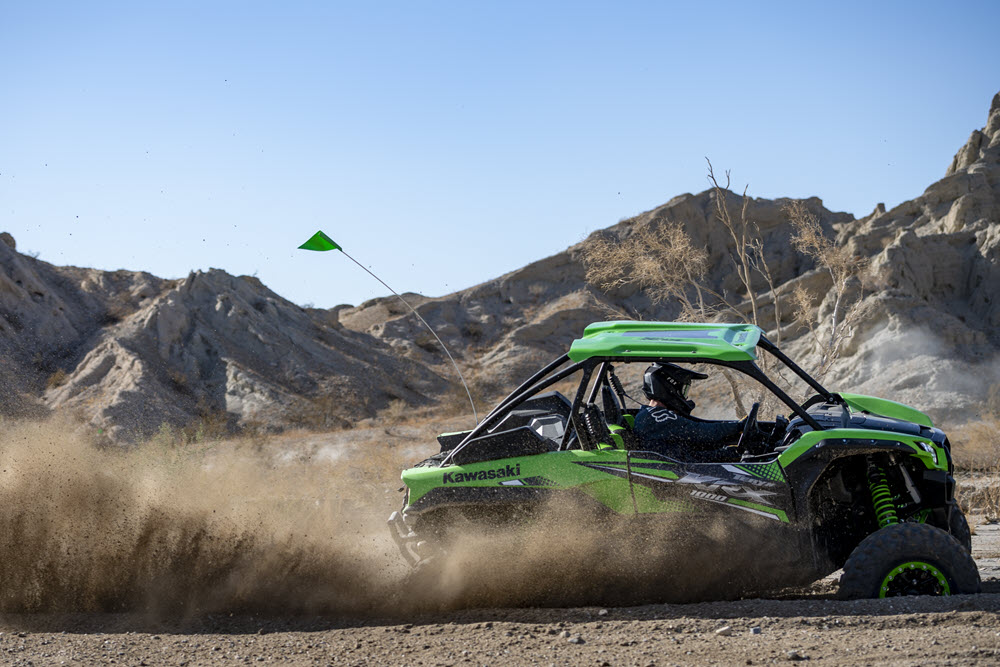 Kawasaki Teryx KRX1000 specs
The KRX1000 features a naturally aspirated 999cc DOHC, water-cooled, parallel-twin engine with a CVT transmission that includes a centrifugal clutch and belt drive. It includes dual power modes with a dashboard switch. You can switch between two-wheel and four-wheel drive on the fly with another switch, which also includes a front differential lock option. All of these modes are displayed on the dash along with a bar-style tachometer, digital speedometer, fuel gauge, gear indicator (L, H, N, R), power mode, driving mode (2WD/4WD/4WD+DIFF Lock), clock, odometer, trip meter hour meter, water temp, battery gauge, oil warning lamp, water temp and CVT Belt temperature.
The KRX1000 has a 98.8 inch wheelbase and 68.1 inch width. The double-wishbone front suspension provides nearly 19 inches of travel. The rear end uses a 4-link trailing-arm suspension system with 21 inches of travel. Both ends use FOX 2.5 Podium LSC shocks with piggyback reservoirs, preload adjustment and 24 position compression damping.
Kudos to Kawasaki on the styling of the KRX1000 as nearly everybody in attendance at the launch agreed that it looks great. The integrated roll cage has a nice shape and is attached to the frame in 8 locations (Kawasaki calls this the 8-point Rollover Protective Structure, ROPS). Kawasaki claims that the KRX1000 is designed to be extremely durable with a heavy-duty frame and components that will withstand a lot of abuse. The entire underside of the KRX is covered with a combination of plastic and steel skid plates with 80% of that being steel. This likely contributes to the relatively heavy claimed weight of 1896 pounds. Based on a visual inspection of the parts and accessories, it certainly looks stout.
The Teryx KRX1000 comes with 31 inch tall Maxxis Carnivore Tires and 15 inch bead-lock wheels. The front brakes are dual-piston hydraulic discs and the rear uses single-piston calipers. To help reduce the need for using those brakes, the KRX1000 has built-in engine braking that will hold the vehicle back on downhills. Also for driver comfort, the KRX1000 includes speed-sensitive Electric Power Steering (EPS).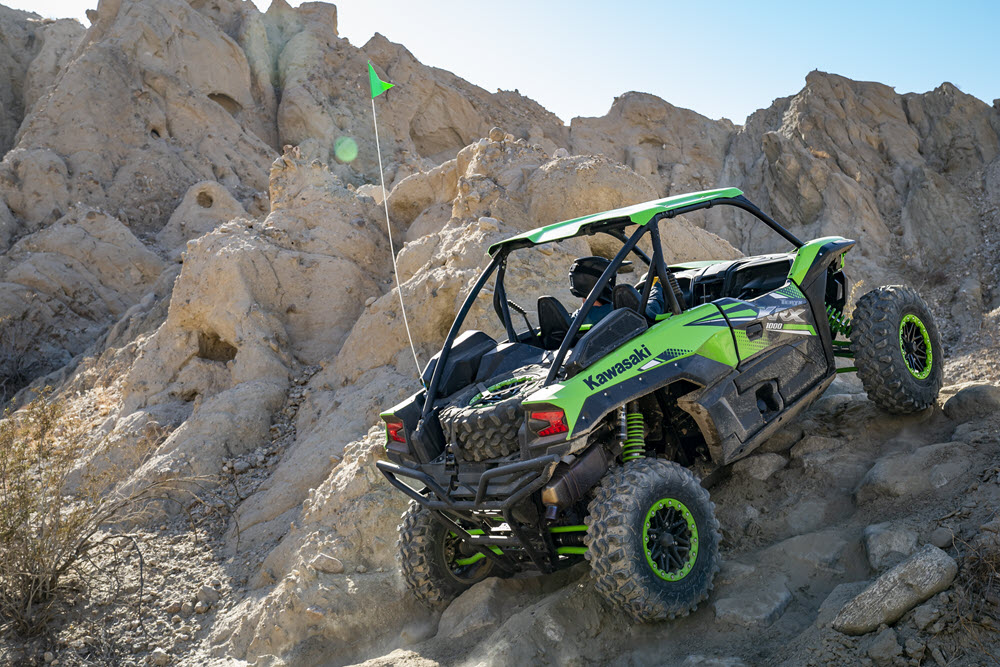 2020 Kawasaki Teryx KRX1000 Driving Impression
We got to spend three hours driving the Teryx KRX1000 at the Kawasaki dealer introduction in Palm Springs, California. They build two courses in the desert that included most of the obstacles you would find on typical trail rides. The only thing missing was some rough whoop sections to really feel the suspension performance at higher speeds.
You step into the vehicle via full-coverage doors and sit into reasonably comfortable seats with an automotive-style three-point harness on both sides. One nice feature is that both the driver and passenger seats have six inches of adjustability. It feels comfortable for a wide range of heights. It has a pretty standard tilt steering wheel and the dash noted above is directly in front of the wheel. Even though there are only two seats in the KRX1000, there are five cup holders. Plus there is a glove box and separate center storage high on the dash. The passenger side includes an adjustable grab handle.
Both of the loops started with a drag strip type stretch to allow us to feel the acceleration and stopping capabilities. It is not really possible to compare competing models unless you get to drive them back to back but the acceleration on the KRX1000 felt good but not overly impressive. It topped out at an indicated 68 miles per hour for us on multiple passes through these sections. The brakes felt good at the end of these high-speed sections. They are setup to provide a little more bias to the front and that setting felt predictable.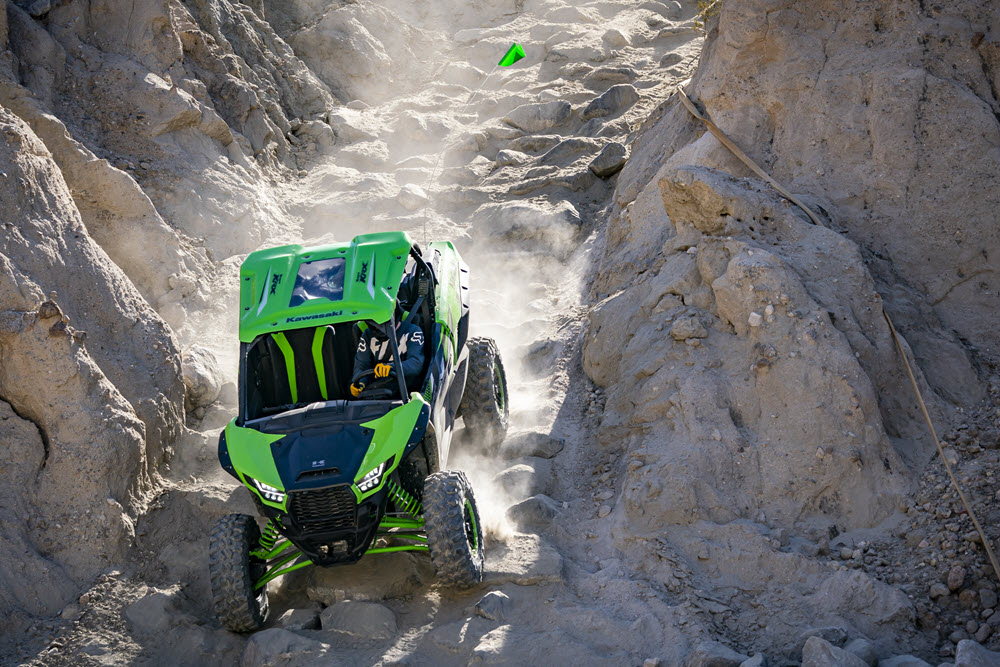 Next up was a loose rock pile that allowed us to put it in low and crawl through the large boulders that put the suspension through a good test and it felt really good in this terrain. The course also included two rocky uphills that allowed us to test the rock crawling capabilities. The Kawasaki team suggested that we try the low power mode here and we can see where this may be good for a driver with less experience or less throttle control, we preferred to not use it and just stick with low and when it gets gnarly, use the differential lock. The throttle control and clutch engagement are plenty good to not need the reduced power and you sometimes need more power to keep your momentum. For steep downhills, especially one relatively long rocky one on the course, the engine braking worked amazingly. You can let off the brakes and let the engine hold it back at a controlled speed. These rock crawling sections is where the KRX1000 really shined.
The loops included some open washes with some twisty turns and a few small drop-offs and the KRX1000 felt very predictable at speed. Because we had several vehicles following the same loops, both became pretty rutted two-tracks and the KRX felt stable hitting these. It does feel like it has a bit of body roll when you really push it into corners despite having anti-sway bars on both the front and back.
Overall, the visibility out of the cockpit is OK but not as good as some other UTV models. The front hood and fenders obscure the view to the ground in slow, technical sections. The seats are reasonably comfortable and the dash provides all of the critical information. The belt temperature is great as knowing this can remind you to back off before burning up a belt.
Two last things to point out are not about driving but are a big part of the ownership experience. The KRX1000 includes a sight glass to check the oil level and the air filters for both the engine and CVT are relatively accessible making for easier service work.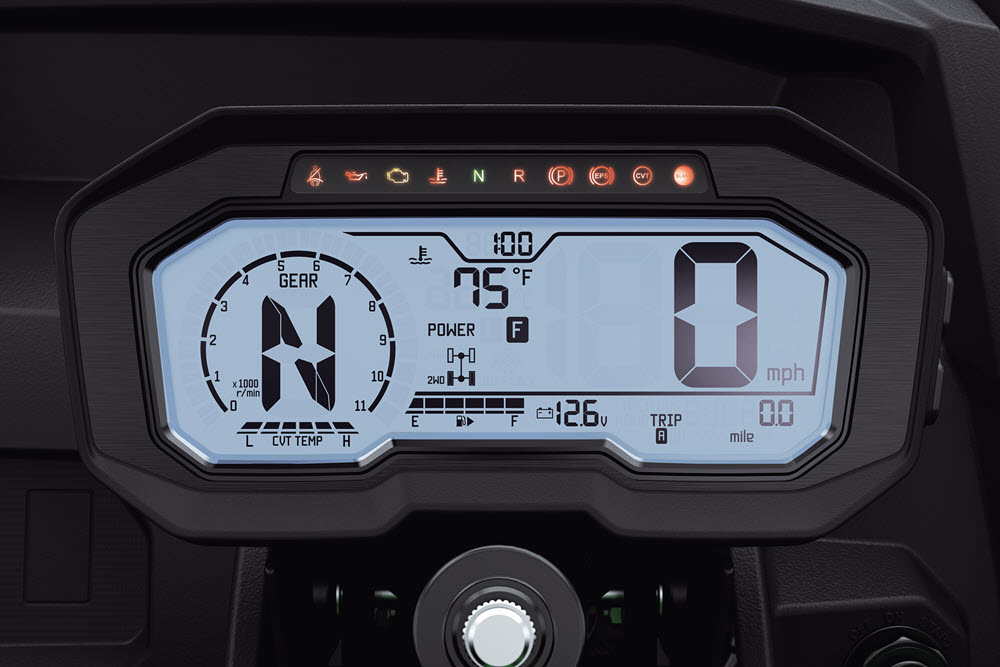 How does the Teryx KRX1000 compare to the competition
As we noted earlier, it is not really fair to try to compare vehicles driven on different days in different conditions. That being said, we can say that the Kawasaki Teryx KRX 1000 is going to be a viable option to a lot of the established sport UTV models. Based on the specs, price point and performance, we feel that the primary competitive models are the Polaris RZR XP 1000, Can-Am Maverick X3, Honda Talon 1000R and 1000X, and the Yamaha YXZ1000R. We summarized the specs for these models in the chart below:

And speaking of aftermarket accessories, Kawasaki has worked closely with several key aftermarket companies to allow them to develop their own accessories. Kawasaki is not offering a turbo option with the launch of the KXF1000 but they have worked closely with KT Performance to develop an aftermarket turbo option.
Kawasaki has worked hard to develop an extensive list of genuine Kawasaki accessories, including some full packages for various needs. You will find everything such as: audio systems, windshields, roof options, 6-point harness kits, mirrors, heaters, guards, cargo accessories and winches. These items were designed in conjunction with the vehicle to provide good mounting options. Aftermarket accessory options for the Kawasaki Teryx KFX100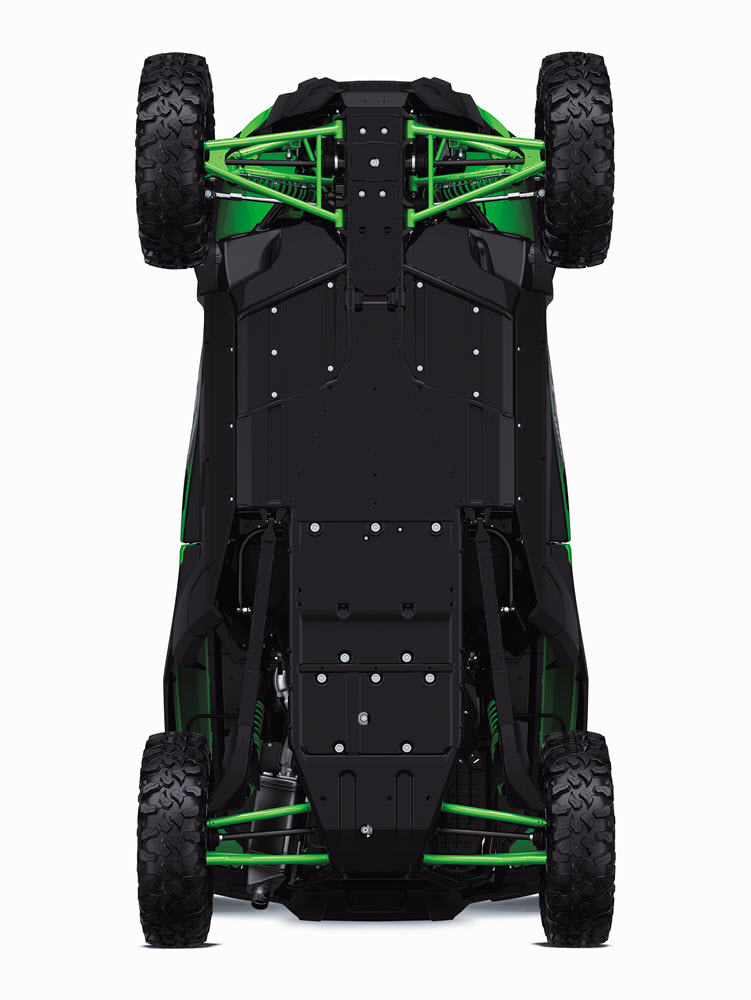 Conclusion
It is a great time to be in the market for a new Sport UTV as you can now add Kawasaki to the list of viable options to choose from. While we can't say that anyone feature on the new KRX1000 sets it apart from the alternative models, it does everything pretty well and appears to be a sturdy build that will hold up to a lot of fun and abuse. The standard 31 inches tires mounted on bead-lock rims, higher ground clearance and sturdy skid plates combined with excellent throttle control and clutch engagement put it near the top in terms of rock crawling performance. And the engine braking provides a lot of control on steep and technical downhills.  Based on our first impressions, we believe the new Kawasaki Teryx KRX1000 will become a popular choice for Sport UTV enthusiasts.