The Kawasaki Teryx and Teryx4 family of side x sides expands in 2021 with the addition of two new models: the Teryx S LE and the Teryx4 S LE. Assembled in Lincoln, Nebraska with domestic and imported parts, the Teryx S LE and Teryx4 S LE side x sides feature new Fox long-travel suspension and longer A-arms.
A third Teryx—the 2021 Kawasaki Teryx KRX 1000 eS—also joins the family. See the video and read about it here.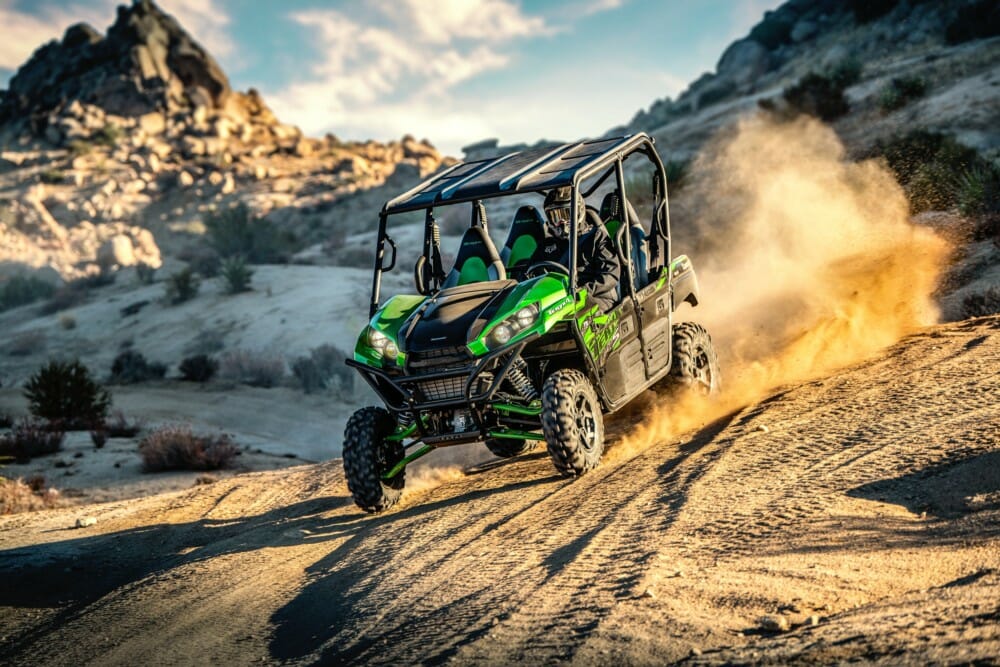 The new Teryx side x sides are powered by a 783cc V-twin engine and now come with Fox 2.0 LSC piggyback shocks. Electric Power Steering (EPS) comes standard and the total towing capacity is 1300 pounds (with an optional draw bar).
2021 Kawasaki Teryx S LE and Teryx4 S LE Highlights
NEW Fox Long-Travel Suspension
NEW A-Arm Shaped for Increased A-Arm Ground Clearance
NEW Increased Tread Width and Longer Wheelbase
2021 Kawasaki Teryx S LE and Teryx4 S LE | Suspension
For 2021, new longer, steel A-arms can be found at all four corners paired with new Fox 2.0 LSC piggyback shocks that offer more suspension travel and revised suspension settings
The S LE models feature high-performance Fox 2.0 LSC Piggyback single-chamber gas-charged shocks and offer fade-resistant damping performance. All four shocks feature piggyback reservoirs enabling the shocks to run cooler and providing more stable damping performance under hard conditions. The front shocks have larger shock bodies matching the two-inch diameter shock bodies mounted in the rear. The longer shock stroke translates to increased wheel travel with the front increasing to 10.7 inches of wheel travel and the rear increasing to 10.0 inches.
The longer A-arms feature a design with more pronounced curvature, meaning more overall ground clearance. The Teryx S LE and Teryx4 S LE also feature revised suspension settings, offering improved stroke action and a more comfortable ride. Both front and rear shocks are adjustable for compression damping as well as preload. The front suspension is complemented by an anti-roll bar that contributes to front/rear roll balance.
2021 Kawasaki Teryx S LE and Teryx4 S LE | Braking
High-performance hydraulic 200mm disc brakes with dual-piston calipers up in the front and a sealed internal wet brake in the rear handle the stopping. The front brakes are recessed within the wheels to help keep them free from debris, while sturdy steel-braided brake lines help keep a crisp, progressive pedal. At the rear, Kawasaki chose to use its unique sealed internal wet brake, which features internal components that are completely sealed from the elements, providing braking performance in demanding conditions.
2021 Kawasaki Teryx S LE and Teryx4 S LE | Frame
The Teryx S LE and Teryx4 S LE side x sides have a double-X frame that features two X-shaped cross members bridging the frame's box structures from corner-to-corner. Underbody engine guards help shield vital components from dirt and debris.
These 2021 Teryx side x sides have a wider stance-approximately 4 inches more in the front and 2.4 inches more in the rear, bringing the overall width to over 62 inches. The wheelbase is longer, too, measuring in at 88.2-inches, and the mid-engine placement centralizing the vehicle's center of mass. These changes can translate into increased ride comfort and better handling.
2021 Kawasaki Teryx S LE and Teryx4 S LE | Tires and Ground Clearance
The Teryxs have large 27-inch Maxxis Bighorn 2.0 tires on polished 14-inch cast aluminum wheels. The S LE model side x sides a maximum 12.2 inches of ground clearance at max preload, helping to negotiate obstacles. The high approach and departure angles (78-degrees in the front for both the Teryx S LE and Teryx4 S LE and 87-degrees and 69-degrees in the rear for Teryx S LE and Teryx4 S LE, respectively) also reduce the possibility of catching the front bumper or scraping the rear.
2021 Kawasaki Teryx S LE and Teryx4 S LE | Powertrain
Kawasaki says that its purpose-built 90-degree V-twin 783cc engine generates power and torque in the low- and mid-range of the powerband. The CVT with a centrifugal clutch assembly has a three-mode switch selectable four-wheel drive system that allows access to either 2WD (light steering, great handling), 4WD or 4WD + Front Differential Lock. The latter helps to provide optimum traction by simply rotating a dash-mounted switch.
2021 Kawasaki Teryx S LE and Teryx4 S LE | Electric Power Steering
The Electric Power Steering (EPS) system in the 2021 Kawasaki Teryx S LE and Teryx4 LE models uses input from vehicle-speed and torque sensors to determine the amount of steering assistance required, giving more during slow-speed use and less as speed increases. And it is only active when the engine is running, limiting battery drain. Both S LE models come standard with a tilt steering column.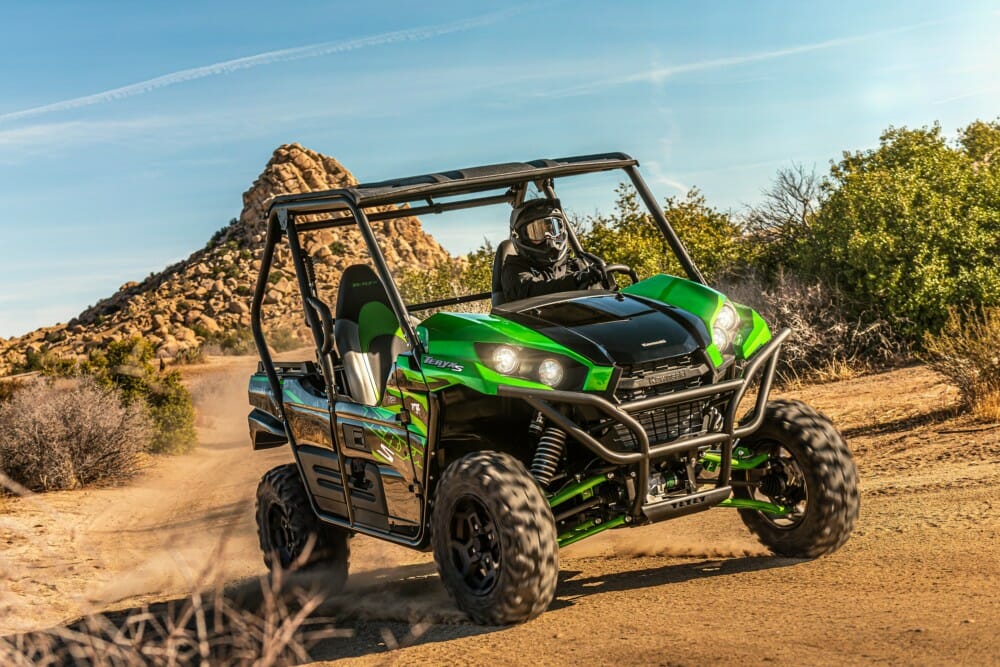 2021 Kawasaki Teryx S LE and Teryx4 S LE | Hauling and Towing
The Teryx S LE features a 27.6 x 43.3-inch cargo bed that is 10.4 inches deep and boasts a heavy-duty 600 lb. payload capacity, while the Teryx4 S LE has a 17.9 x 47.6-inch, 250 lb. capacity cargo box that is 8.7 inches deep. The cargo bed has a flat bottom for carrying supplies out on the trail.
The cargo bed of the Teryx S LE has KQR accessory-ready rails, which allow for convenient mounting of Kawasaki Genuine Accessories and/or tools to the bed rails. Four tie-down loops help secure the cargo and also features two rear storage compartments with lids that offer 48 gallons of storage capacity.
The Teryx S LE features a latching tailgate, which can be removed without requiring tools to facilitate loading and unloading of cargo and cleaning. The tailgate features molded drink holders and a 2-inch hitch receiver is standard equipment on both S LE models for a substantial 1300 lb. towing capability once equipped with the optional draw bar.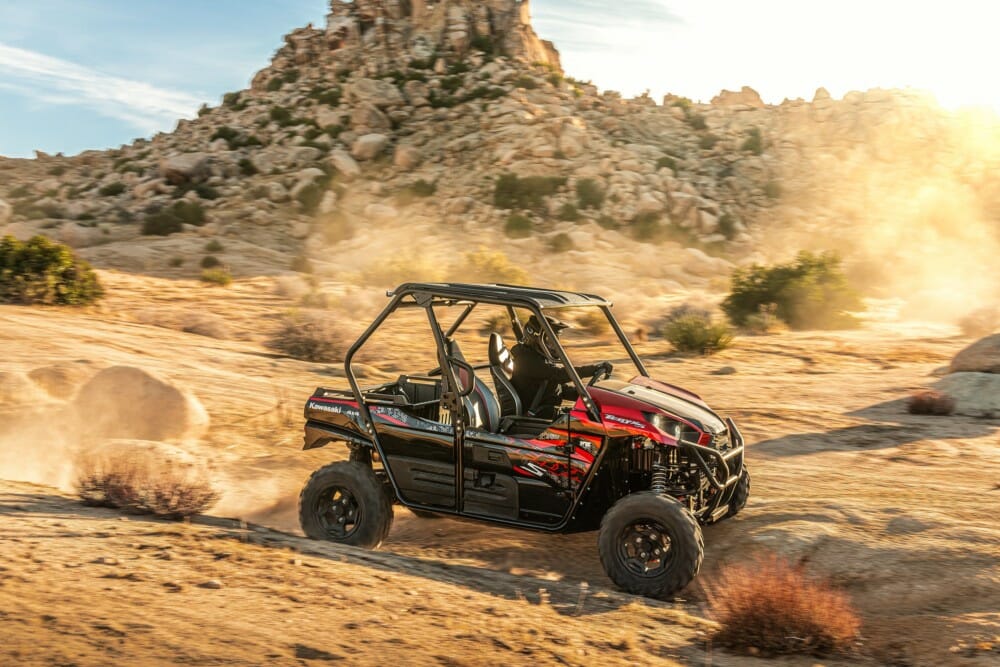 2021 Kawasaki Teryx S LE and Teryx4 S LE | Convenience, Comfort and Styling
Convenience features on the 2021 Kawasaki Teryx S LE side x side include two DC power outlets (three on the Teryx4 S LE model, two up front and one in the rear) providing up to 120 watts of electrical power. Almost eight gallons of fuel capacity mean both S LE models have substantial range. There's also a sun top, which comes standard on the Teryx S LE and Teryx4 S LE models, plus beverage holders for each occupant.
The dashboard layout incorporates four accessory-switch knockouts, allowing Teryx side x side owners to operate their chosen Kawasaki Genuine Accessories, such as a winch, auxiliary LED lighting, etc. The dashboard is also able to accommodate an audio system and a number of convenient storage pockets were also incorporated into the dash.
A strong tubular-steel front brush guard and four high-intensity LED headlamps that have two switches with both low and high beam, allow drivers to adjust the light on the trail. Textured paint on the brush guards and ROPS cage help keep the vehicle looking sharp.
The roomy interior gives the driver and passengers plenty of hip, shoulder and legroom. Three-tone high-backed bucket seats feature high-quality cushioning and cold-resistant seat material for all-day plushness. The high-back adjustable seats eliminate the need for a headrest and feature wraparound ergonomics. The driver's seat can be adjusted 50mm while in the seat, allowing different sized drivers to comfortably get behind the wheel. Each set is outfitted with a three-point seatbelt. Shock-absorbing comfort mounts and an anti-cinch feature on the seatbelts also help prevent over-tightening when the belts lock during sudden deceleration (or when the tilt sensor is activated).
All the Teryx side x side models feature premium factory-designed latching doors. The instrumentation includes a multi-function electronic display that provides an array of useful information: speedometer, fuel gauge, odometer and hour meter, clock and dual trip meters. There are also indicator lights for the 2WD/4WD, front differential, parking brake, water temp and a fuel-injection warning, plus a reverse indicator.
2021 Kawasaki Teryx S LE and Teryx4 S LE | Colors and Prices
The 2021 Teryx S LE is available in both a Candy Lime Green and Candy Persimmon Red colorway. The 2021 Teryx4 S LE is offered in three different color options, including Candy Lime Green, Candy Persimmon Red, and Fragment Camo Gray. The Teryx4 S Camo can be found in Realtree Xtra Green Camo.

2021 Kawasaki Teryx S LE
Colors: Candy Lime Green, Candy Persimmon Red
MSRP: $15,699

2021 Kawasaki Teryx4 S LE
Colors: Candy Lime Green, Candy Persimmon Red
MSRP: $17,699

2021 Kawasaki Teryx4 S LE
Colors: Fragment Camo Gray, Realtree Xtra Green Camo
MSRP: $17,899
For more information, visit www.kawasaki.com