Behind the scenery Hollywood portrays of Montana's landscapes and the romance of a chance encounter with a frontier character, there are generations of hard-working people making a living in this picturesque, but rugged country. Montana is awesome, yes. But it is also hard, unforgiving and massive.
By Jesse Ziegler
Photos by Noah Kupcho and Brian Elliott
Montana has a history of pioneers testing their mettle against it, hoping to hit the motherlode pay-dirt payday or just a little profit from livestock, crops, timber, and more. Its reputation as wild will likely never go away. And this is why we chose to take Honda's new 2021 Talon 1000X Fox Live Valve here.
The Honda Talon 1000X is the mountain master in Honda's sport SXS lineup. And something we thought would be perfect for the trails in the hills of the Big Sky State. It is designed with a footprint to navigate tighter trails and to be more responsive around obstacles as it performs more compactly than the Talon 1000R. It's really just a difference in suspension travel and wheelbase, but we think the Talon 1000X is the perfect ride for this terrain.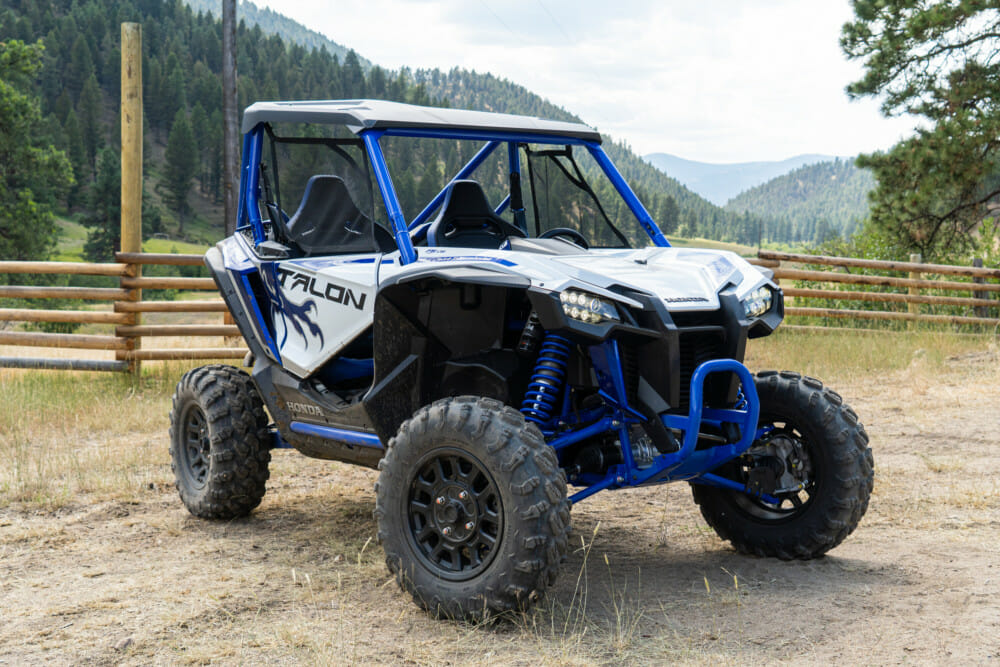 In Real World Rides tradition, we didn't simply want to take the new Talon 1000X up to the dirt and test it ourselves. No, we can do that anytime, anywhere. More, we wanted other people—real people—to tell us what they felt when driving the new Honda Talon. Further still, we wanted to drop the Honda Talon in their backyard so they can give us (and you) a real-world perspective of how it works in their life.
The Marks Family
For our Real World Rides: Montana effort, we found the perfect family to fill our test-pilot needs. Cody and Christi Marks live on a 7000-acre family ranch outside Clancy, Montana. This kind of off-road access is dreamy for a test platform. They work cattle, manage timber operations, and recreate all over their property and just keeping fences mended is a full-time job. As a couple, they are motorsports lifers to the core, both compete in serious off-road motorcycle competitions all over the west. And their two children are quickly following in their shoes. How much do they love off-road competition? Well, they held a hare-scramble race on their property for a number of years, featuring over 20 miles of hand-build singletrack. So, yeah, I think they're the right people for the job here.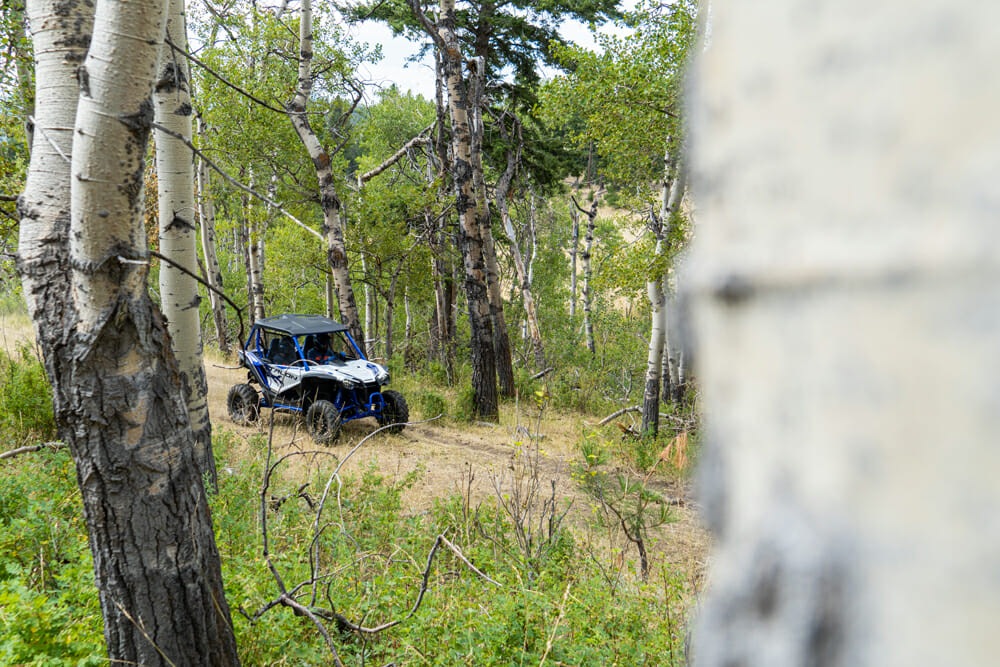 The Marks family has a unique position in American off-road, especially when it comes to SXS use. They love competing and recreating off-road, but they also use off-road vehicles for work and transportation around the ranch and, as we'll see later in the videos, to get away from it all with trips to their mountain cabin for a weekend or for a local lakeside day trip.
Before we give the Marks family the keys to the Honda Talon 1000X Fox Live Valve edition, we couldn't resist testing it ourselves. So, let's get to it!
2021 Honda Talon 1000X Fox Live Valve First Test
As soon as I parked in the hills of Montana, I called my friend Brian Elliott to co-pilot the 2021 Honda Talon 1000X Fox Live Valve with me for our first test. Brian is an off-road fanatic and a fellow Montanan. So, we met high on the Marks ranch for a quick overview of the massive amount of tech inside this premium build of the Honda Talon family.
Video | Real World Rides, Montana Episode 1
2021 Honda Talon 1000X Fox Live Valve Tested
There is a lot to unpack in the Honda Talon technology build list. From the oft-mentioned Dual Clutch Transmission (DCT) and i-4WD system, to the now-standard Launch Mode, the button showcase inside the cab of the Honda Talon is something else. While some models have higher resolution displays on board, few sport SXS's can match the key functionality points of the Honda Talon platform.
Then, Honda went ahead and stepped up the game. With the addition of FOX Live Valve suspension, Honda added the cherry on top of a premium build.
Brian is admittedly not a SXS guy. He spends a lot of his time pedaling a mountain bike or running over mountains when he's not unloading his dirt bikes for a ride with his son. His heart and soul live off-road, no matter what he's doing, so having his input to the Honda Talon 1000X FOX Live Valve was greatly appreciated. I even let him drive (eventually).
After I went over the laundry list of features and benefits Honda throws at the Talon 1000X FOX Live Valve, we finally went for a rip.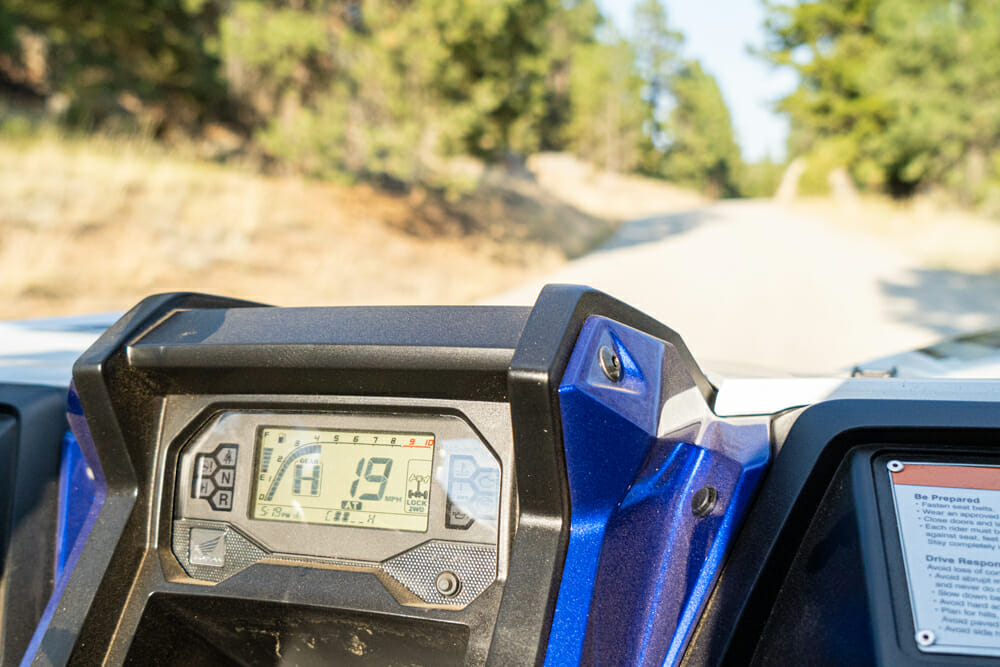 The Marks Ranch has endless two-track that the family actively uses to work the ranch. Criss-crossing that is a series of decomposing mining and logging roads from the past. From pristine polished dirt to rain ruts and rock gardens, we found it all in a few square miles of the sprawling acreage.
After just a short test drive, the excellent Honda Talon qualities come up. I was quickly chattering in Brian's ear about how much I appreciate the DCT transmission and its ability to just be in the right gear, all the time. From the wide-open miles of the Arizona desert, Montana's mountains gave the DCT a unique challenge with slower speeds and more drastic elevation changes. But, it performed magically. In fact, in the changing elevation, DCT works even better than I imagined it could. With real engine braking that maintains predictable traction, the Honda Talon 1000X is finding more traction when we need it most—like on steep, sudden downhills. It doesn't freewheel or suddenly change compression braking pressure; it just acts like a manual transmission. And that's a welcome feeling when exposure is on your side.
Likewise, I bragged about the i-4WD system. This system proved capable and, honestly, we just left it on all the time so we could count on it to keep the wheels with traction engaged. You almost have to re-think what four-wheel drive is with this system as it's more of an all-wheel drive mesh of traction that is just always on and never in the way.
Really, though, what blew both of our minds was the FOX Live Valve suspension system. It proved to be absolutely amazing. On all levels the FOX Live Valve made the ride more predictable and fun. This was most noticeable in descents into off-camber corners or when surprised by deep water bars across the trail. The intuitive nature of the FOX Live Valve system was thinking ahead and made for a surprising ride. It was so smooth, and the faster we pushed it and the rest of the Honda Talon 1000X systems, the better it/they worked.
After our first test, it appeared we had the perfect ride for the mountains. And even though Launch Mode is a bit of a race-only feature, we sure used it a lot on the trial!
The Honda Talon 1000X impressed us across the board. But what would our guest test riders think?
Before we gave it up to the Marks family, we outfitted it with some very cool System 3 Off-Road Tires and Wheels to give it more of a gritty, off-road look and bite. More on that coming up soon with a full review of the tire-and-wheel setup and what the Marks family thought of this beast coming soon!