AntiGravity Batteries' Re-Start lithium-ion battery has a built-in jump-starting feature.
The Re-Start battery from AntiGravity Batteries makes being stranded by a dead battery a thing of the past. The Re-Start has a button on top that accesses the battery's reserve energy so if a battery gets drained, the vehicle can be started up. The Re-Start can also be started remotely with a keyfob (two keyfobs included) from the safety of sitting in your UTV.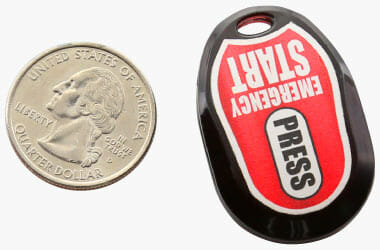 Scott Schafer, AntiGravity CEO, states, "We've all been left stranded by a dead battery. It's awful, frustrating, and in some situations, if you're in the middle of nowhere, it can be very dangerous. Our objective as a leader in lithium-ion technology for motorsports was to create a vehicle battery that the customer can rely on and not worry about getting stuck in the middle of nowhere with a dead battery, and I'm happy and proud to say we have done it with this new battery!"
The Re-Start batteries also have a Battery Management System that actively balances the lithium cells, while protecting the battery from over-charge, over-discharge, and over-temperature conditions.
The AG-26 Re-Start Battery is available in two amp-hour options (16 and 20 amp hours) and price ranges from $459.99–$539.99.
Here's a video about the new AntiGravity Re-Start battery:
Video | AntiGravity Re-Start Battery
AntiGravity Re-Start Batteries Features:
Group 26 OEM UTV Case size (directly replace stock battery).
LxWxH: 7.75 x 6.5 x 7.24 inches.
Amp Hour Options: 16 Ah, or 20 Ah.
High Power: 16Ah=850CA, 20Ah=925 Cranking Amps.
Exclusive Re-Start Technology (Wireless Remote Jump-Starting).
Complete Battery Management System built-in.
Lightweight: Approximately 70% lighter than lead batteries.
Full BMS and Lifepo4 Lithium chemistry.
For more information, visit antigravitybatteries.com